If you have your own WhatsApp Group and you want to promote it and want to add more and more group members then you should create and send the invitation link of your group to others. People can join your WhatsApp Group from that invitation link without your further permission. So dear users, here in this post we guide you that How to Create a WhatsApp Group or How to create your own WhatsApp Group?
WhatsApp is a big giant messaging app in the social media world. You can chat with others in a single chat or also in the group form. And to join a group you must need the permission of the group admin because only a group admin can add anyone as a group member. But if you want to join a WhatsApp group without the permission of the group admin then you just need an invitation link to that group.
Nowadays WhatsApp is the most popular messaging app in the social media world. Almost this social media app is used all over the world.
How to Create New WhatsApp Group?
You can create WhatsApp groups by accepting the following easy steps. Every group has up to 256 strength members.
STEP-1 Open Your WhatsApp
First, you should open WhatsApp on your mobile.
STEP-2 Click On Three Dots
Then click "More Options" (Three Dots) at the top right corner.
STEP-3 Click New Group
Here Tap on the "New Group" option.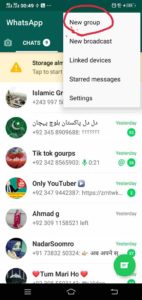 STEP-4 Slect Particepants
Select any one or more than one participant from your contact list to add to as the group members.
STEP-5 Click on Green Arrow
Then click on the "Green Arrow" button at the bottom right corner after selecting the required participants.
STEP-6 Write Group Name
(i) "Type The Group Name". This will be the name of the group that will be visible to all members. The name limit is 25 characters.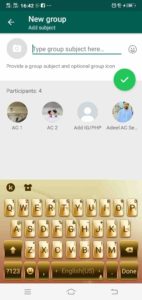 (ii) Dear users, You can add an "Emoji" to the name by clicking on the "Emoji Icon".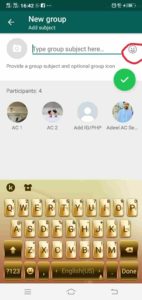 (iii) You can add a "Group Icon" by tapping on the "Camera Icon". You can choose to use your camera, gallery, or search on the web to add an image.
(iv) Once set up, the icon will appear with the group in the Chats tab.
STEP-7: Tap on Green Tick Marck
After typing the group name finally tap on the "Green Checkmark" button shown as in picture.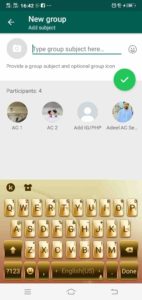 Congratulation here you have to create WhatsApp Group Successfully.
More Best Posts
FINAL WORDS
Dear users, if you found this post How to Create a WhatsApp Group helpful for you then please just show your love with us to share this post with your friends, family members, etc on social media apps like WhatsApp, Facebook, Twitter, Telegram, Reddit, etc.